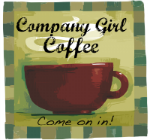 Good Morning!
My daughter spent the week with my parents, and while it was a much needed break for me, my home didn't feel quite the same. I'm sure my 10 month old loved the extra attention, but I think he was a little bored without his big sister. I think I was too.
My mind is getting the hang of getting up at 5:30/6 for my devotions, although I'm ready to pass out by 8pm. Maybe I need to institute some mandatory mommy nap time during the day...
As far as Valentine's Day goes, I'm not that into it this year. At the moment, I am perfectly content with putting the kids to bed early and enjoying a home cooked meal and a movie. Or sleep. My husband, however, is pushing for a date night tonight so we can bypass the crowds on Sunday, and because he says I'm "special". So I guess would be a crazy woman to turn that down, right?
The highlight of the week was learning that a couple in our church is going to give us a vehicle. Yes, I said GIVE! I was in an accident in August and my car was totaled. We've been trying figure out the best way to get another vehicle without getting into debt, especially because we just started Dave Ramsey's
Financial Peace University
at our church. Anyway, my husband was sharing that need as a prayer request, and this couple said that had a vehicle that needed a good home. So there you go. WHO IS LIKE THE LORD!?