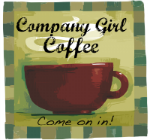 Yesterday my kids and I were in the store and I found a DVD of one of my daughter's favorite DVD series. I was excited about this because it was a great deal, but I didn't show it to her. As we walked around the store, my precious little doll decided that she wanted to display some defiant behaviors that she knew absolutely didn't work for me. In the midst of the foolishness and trying to discreetly chastise her, I kept thinking about the DVD; part of me wanted to put it back. Then I started to think about my relationship with Jesus and how He graciously blesses me, providing all my needs according to His riches in glory, and even some of my desires. And He does these things in the midst of my sinful foolishness and His chastisement. That is one of the most challenging aspects of being a parent. If you are a Christian, God uses these precious little sinners to sanctify you and put you in check.
And yes, I did buy the DVD, not because she deserved it, but simply because I love her.
But God demonstrates His own love toward us, in that while we were yet sinners, Christ died for us.
Romans 5:8