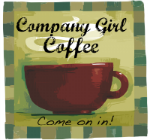 This week is my first time participating in Company Girl Coffee, a virtual meetup for bloggers to share a cup of coffee and a little fellowship.
I think I hit a wall this week. I'm realizing that my life is Kaotic. I know that it should be spelled
chaotic
, but my inner craziness is better portraited with the incorrect spelling. Let me clarify that my husband and kids aren't causing the Kaos. It is my lack of discipline and organization. So, I've been on a mission to establish order in my life. Here's the plan:
Wake up by 6a.m. for devotion

- For the sake of transparency, I will say that my greatest weakness as a Christian is that I don't spent enought time with the One I'm supposed to be following. Some of you might think 6a.m. is nuts but my hubby is up and out by 6:30, so he's agreed to make sure that I am up when he leaves.

Develop and keep a daily schedule

- laundry, cleaning, etc. The daily small things at Home Sanctuary will be an instrumental part of this.

Start menu planning

- I'm trying to get ready for Menu Plan Monday at Organizing Junkie
I started this yesterday, and so far so good. My prayer is that I can develop the discipline to maintain these areas, for the sake of all who have to endure living with me !